CATEGORIES
LATEST NEWS
CONTACT US
ADD: No.235,Huanchengdong Road,Huzhou,Zhejiang,China
TEL: 0086-572-2157374
FAX: 0086-572-2146389
E-mail: sales@plantextractpowder.com

> Natural Peptide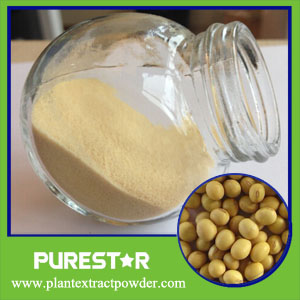 Soybean peptide,Soy Oligopeptides
Apperance: yellow powder
Soy oligopeptides(%)≥80.0%
PH(10.0%water liquor solution):6.5-7.5
Water solubility:100% water soluble
Product description: Huzhou Purestar Biochem Co.,Ltd is provide the reliable quality Soybean peptide,Soy Oligopeptides with ISO,KOSHER,HALAL,HACCP
PRODUCT INTRODUCTION
Soybean peptide,Soy Oligopeptides
Fineness: 100% through a sieve aperture of 0.25mm
Color: yellow powder, yellow taste and odor,This product has a unique taste and smell, no other smell
Impurities: no visible foreign matter
Crude protein: ≥90.0%
Peptide content: ≥80.0%
PH(10.0%water liquor solution):6.5-7.5
Greater than or equal to 80% of peptides relative molecular mass: ≤2000
Moisture: ≤7.0%
Fat: ≤1.0%
Water solubility:100% water soluble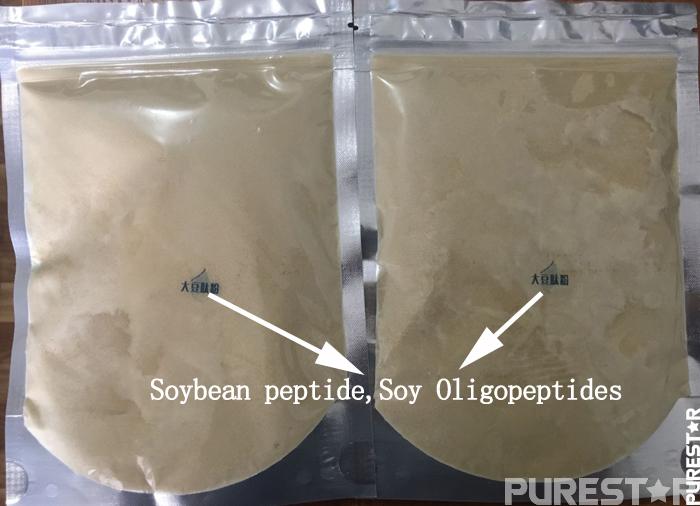 Description of Soybean peptide,Soy Oligopeptides
Soybean peptide is the peptide mixture obtained through the separation and refinement of soy protein by means of acidic or enzymatic hydrolysis, which mainly contains micro-molecular peptides composed of 3 to 6 amino acids; it also contains a small amount of macromolecular peptides, free amino acids, sugars, inorganic salt and other ingredients. The molecular mass is below 1000μ. The protein content of soybean peptide is about 85%; its amino acid composition is the same as that of soy protein; the essential amino acids are of good balance and rich in content. Compared with soy protein, soy peptide is featured by high digestion and absorption rates, rapid energy supply, the physiological functions of lowering cholesterol, lowering blood pressure and promoting fat metabolism, and good processability, such as, free of beany flavor, protein denaturation, and acid precipitation, noncondensing under heat, soluble in water, and good fluidity. It is an excellent material for making health foods.
Physical and chemical properties of Soybean peptide,Soy Oligopeptides
1.small molecular weight. Soy protein molecular weight of tens of thousands or hundreds of thousands. The average molecular weight of soybean peptide 1,000 or less. Such oligomeric has reached the intestinal tract can be directly absorbed by the body level.
2.good water solubility. Low solubility of soy protein, soybean peptide has good water solubility. The degree of absorption and utilization of nutrients are water-soluble often decisions.
3.Good thermal stability. In case of thermal denaturation of proteins, and soy oligopeptides thermal stability. Therefore, the use of soybean peptide manufacture various forms of food, it will not cause structural changes.
4.Good acid-stable. Proteins typically have isoelectric point, generally when the pH value of about 4.5, that is the protein in solution will precipitate. Soybean peptide no isoelectric point in the acidic conditions of pH4.5 will not precipitate.
5.Direct the absorbent. In vitro tests confirmed that soybean peptide after treatment with pepsin, more than 95% of undigested; trypsin after treatment, about 90% of undigested. This shows that soybean peptide is no longer to be digested, most forms of the peptide will be absorbed directly.
6.Safety. Soybean memory in many anti-nutrients, such as trypsin inhibitor, hemagglutinin, anti-vitamin substances, harm the human body. Soybean peptide does not contain anti-nutrients. Studies have reported that soybean peptide has low allergenicity.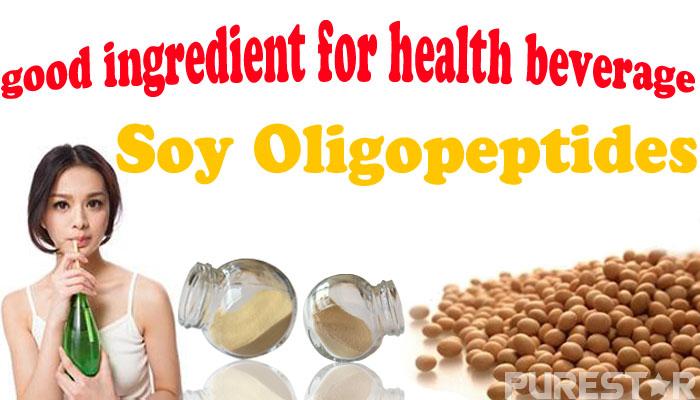 Function of Soybean peptide,Soy Oligopeptides
1.organizational structure and improve the intestinal absorption function
Tests confirmed that soybean peptide can increase small intestinal villus height, crypt depth deepened to increase the intestinal absorption area, promote intestinal glands developed, increasing the aminopeptidase activity. It is possible to promote improved intestinal absorption function.
2.enhance the body's immune system
Soybean peptides can improve the cellular immune function. It can promote the proliferation of T lymphocytes, macrophages enhancements, enhanced NK cell activity. Studies have reported that soy peptides may also facilitate tumor necrosis factor production.
3.lower blood pressure
Angiotensin I into angiotensin II by angiotensin converting enzymes. This conversion product enables peripheral vasoconstriction enhancement, from the blood pressure. Soybean peptides can inhibit the angiotensin-converting enzyme (ACE) activity, it is possible to play a reduced pressure effect. But soybean peptide had little effect on normal blood pressure.
4.regulation of lipid
Soybean peptides by lowering serum total cholesterol, lower triglycerides, lower LDL cholesterol, effectively regulate lipid levels.
5.to promote fat metabolism
Soybean peptides can increase brown fat inside mitochondria activity, and promote fat metabolism; also increase norepinephrine conversion rate, reduce the lipase inhibition, thus promoting fat metabolism.
6.Antioxidant
Soybean peptides can be improved by superoxide dismutase, glutathione peroxidase activity, inhibition of lipid peroxidation, scavenge hydroxyl radicals, helps to reduce oxidative, protecting the body.
7.Sports Fatigue
Soybean peptides can be repaired in motion the process of repair of damaged skeletal muscle cells and maintain the integrity of the structure and function of skeletal muscle cells. At the same time, it can increase the secretion of testosterone promote protein synthesis. Human trials confirmed that soy peptides can be reduced after the middle-distance athletes in PRE level, helps reduce fatigue after exercise.
Application of Soybean peptide,Soy Oligopeptides
1.applies to food and nutritional effect of hypoallergenic food
Soybean peptide digest, absorb quickly, and has a low antigenicity can be used for patients with special nutrients, especially in the digestive system and intestinal nutrients flowing food, applied for a convalescent, the elderly digestive function decline and digestion function immature infants taking.
2.for the production of health food
Soybean peptides with enhanced immunity, lower cholesterol, lower blood pressure, regulate blood lipids and other effects, can be used to develop the corresponding function claim health food.
3.development of sports nutrition
The use of soybean peptide development of anti-fatigue food movement has been widely used at home and abroad. China's use of soybean peptide developed sports nutrition in October 2005 has passed the appraisal.
4.Other
Since soybean peptide has good physicochemical and processing characteristics of soybean peptide it can also be applied to high-protein foods, baked goods, candy, cakes, beverage,cold drinks and so on.