CATEGORIES
LATEST NEWS
CONTACT US
ADD: No.235,Huanchengdong Road,Huzhou,Zhejiang,China
TEL: 0086-572-2157374
FAX: 0086-572-2146389
E-mail: sales@plantextractpowder.com

> Natural Peptide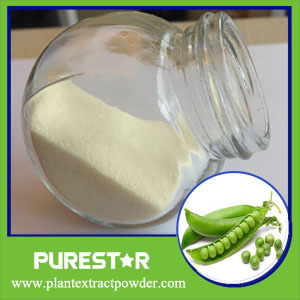 Pea Peptide
Apperance:light yellow powder
Peptides(%):≥80.0
Total protein(%):≥90.0
Water solubility:100%water soluble
Product description: Huzhou Purestar Biochem Co.,Ltd is provide the reliable quality Pea Peptide with ISO,KOSHER,HALAL,HACCP
PRODUCT INTRODUCTION
Pea Peptide
Apperance:light yellow powder
Total protein(%):≥90.0
Peptides(%):≥80.0
The relative molecular weight of protein hydrolysate below 1000 Dal(g/100g):≥85
Moisture(%):≤7.0
Ash(%):≤8.0
Water solubility:100%water soluble
Description of Pea Peptide
Pea peptide is made by using the directed restriction enzyme digestion technology for biological compound enzyme enzymolyzed peanut meal based on pea protein as the raw material.
Pea peptide contains eight amino acids that the body cannot synthesize by itself, and their ratios are close to the patterns recommended by FAO/WHO. The good efficacy and excellent functional properties of peptides allow pea peptides to be widely used in food and health care products
What's peptide?
Peptides are naturally occurring biological molecules. They are short chains of amino acid monomers linked by peptide (amide) bonds. The covalent chemical bonds are formed when the carboxyl group of one amino acid reacts with the amino group of another.
Peptides are distinguished from proteins on the basis of size, and as an arbitrary benchmark can be understood to contain approximately 50 or fewer amino acids.
We can supply 1000 tons soy oligopeptides,1000 tons malt extract powder,also other peptides such as collagen peptides,wheat peptides,corn peptides,egg white peptides,pea peptides,mung bean peptides,oyster peptides,hydrolysate soy protein(soy peptone) and silk peptides.
Compared with protein,peptide can be dissolved into water completely at the same RH.And Peptide can be dissolved into liquid at any PH value.And Peptide gets a much higher inhibition rate at the same concentration of antioxidant
Function and Application of Pea Peptide
1. Pea peptide has excellent emulsifiability and emulsion stability, which can be used as emulsifiers for various types of foods; pea peptides can quickly emulsify fat, to prepare sausages with good emulsifiability. Sausages made in this way are very tasty with high nutritional values.
2. If added into biscuits, pea peptide can enhance the flavor and strengthen the proteins; in addition, it can be developed into health foods having different functions.
3. Pea peptides have very high water-holding and oil absorption properties as well as good gel forming property, which can be used in hams and other meat products as an excellent additive.
4. Pea polypeptide has a certain degree of foamability and foam stability, which can partially replace eggs to be added to pastry products.
5. Pea peptides can also be used in flour products. For example, adding pea peptide into flour can improve the nutritional value, intensity and gluten strength of noodles, and thus improve the appearance and taste of flour foods.
6. Peas (peptide) liquor. The technological problem that peas containing a large amount of proteins (20%) and fat cannot be fermented to make liquors is successfully tackled by using biotechnology. This type of liquor is rich in peptide, which can not only be absorbed by the human body, but also enhance the immune function, demonstrating its active role in inhibiting oxidation, scavenging free radicals, lowering blood pressure, blood fat and cholesterol, and resisting cancer, fatigue and aging.
7. When used in cosmetics, pea peptide can inhibit elastase, protect elastin, improve skin elasticity, increase skin tightness, and stimulate the synthesis of collagen, elastin, and glycosaminoglycan (chondroitin sulfate).