CATEGORIES
LATEST NEWS
CONTACT US
ADD: No.235,Huanchengdong Road,Huzhou,Zhejiang,China
TEL: 0086-572-2157374
FAX: 0086-572-2146389
E-mail: sales@plantextractpowder.com

> Natural Peptide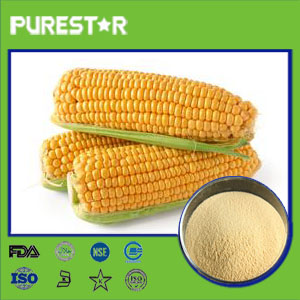 Corn Peptide
Apperance:yellow powder
corn oligopeptides(%):≥75.0
Molecular weight(Dalton):≤1000
Water solubility:100% water soluble
Product description: Huzhou Purestar Biochem Co.,Ltd is provide the reliable quality Corn Peptide with ISO,KOSHER,HALAL,HACCP
PRODUCT INTRODUCTION
Corn Peptide
Apperance:yellow powder
Total protein(%):≥80.0
corn oligopeptides(%):≥75.0
Molecular weight(Dalton):≤1000
Moisture(%):≤7.0
Ash(%):≤8.0
Water solubility:100% water soluble
Description of Corn Peptide
Corn peptide is kind of protein which extracted from natural food - corn.
Features:
Nutrient-rich、lower blood pressure、sobering-up function、easily absorbed、solubility、stability、security
Function of Corn Peptide
1.the nutrient-rich: contains a variety of amino acids the human body must provide amino acids and peptides can nutrition.
2.lower blood pressure: corn peptides inhibit the action of angiotensin converting enzyme, thereby reducing blood pressure.
3.hangover effects: inhibition of alcoholism.
4.Other effects: This product contains in addition to lowering blood pressure, small peptides, other small peptide has anti-fatigue, liver protection, improve immunity and other functions.
5.easy to absorb: better absorption of amino acids or protein.
6.Solubility: in a wide range PH completely soluble in water, no turbidity and precipitates.
7.Stability: stable to heat, the components do not change, no loss of function. 8, security: natural food protein, safe, non-toxic side effects.
Application of Corn Peptide
Lowering blood pressure、health care products、Sober-up products、Liver-protect products、Enhancing immunity and enhance athletic ability products、Athletes of food、Hypolipidemic food、Enhanced protein drinks