CATEGORIES
LATEST NEWS
CONTACT US
ADD: No.235,Huanchengdong Road,Huzhou,Zhejiang,China
TEL: 0086-572-2157374
FAX: 0086-572-2146389
E-mail: sales@plantextractpowder.com

> Standard Plant Extract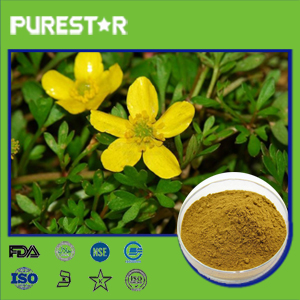 Devils Caw Extract/Cat's Claw Extract
Latin Name: Harpagophytum procumbens
Active Ingredient: Harpagosides
Specifications: 2%,5% Harpagosides ,5;1, 10:1
Apperance: Brown yellow Powder
Product description: Huzhou Purestar Biochem Co.,Ltd is provide the reliable quality Devils Caw Extract with ISO,KOSHER,HALAL.
PRODUCT INTRODUCTION
Devils Caw Extract,Cat's Claw Extract
Product Name: Devils Caw Extract
Latin Name: Harpagophytum procumbens
Part of used: leaf
Active Ingredient: Harpagosides
Specifications: 2%,5% Harpagosides ,5;1, 10:1
Test Method: HPLC
Apperance: Brown yellow Powder
Description of

Devils Caw Extract,

Cat's Claw Extract
What Is Devil's Claw?
The deserts of southern Africa are home to the peculiar-looking devil's claw plant (Harpagophytum procumbens), so named because of the distinctively shaped tips of its fruits. For years, people indigenous to the African continent dug up the plant's large tuberous roots, chopped them up, and let them dry in the sun. From the dried roots, they then prepared healing formulations to treat arthritis, fever, indigestion, and a number of other conditions.
After European and North American colonists in Africa were introduced to the herb in the 1950s, it began to be examined for its chemical properties and healing potential. Today many herbalists consider devil's claw effective in treating the aching and stiffness of arthritic joints.
Health Benefits of Cat's Claw Extract
It remains unclear just how devil's claw works to reduce inflammation and pain. The latest findings indicate that the plant does not exert anti-inflammatory effects in the same way that many standard anti-inflammatory medications do. Yet test-tube studies still point to slight painkilling and anti-inflammatory actions.
For example, a 1999 study published in Europe reported that devil's claw slightly improved back pain, but the findings were inconsistent. Nearly 200 people with chronic pain were included in this double-blind study. And an earlier study of more than 115 back pain sufferers was even more disappointing, finding no benefit at all to taking devil's claw.
Nonetheless, the popularity of devil's claw persists, and side effects appear to be minimal. Many herbalists continue to recommend this ancient African remedy.
Cat's claw, also known as Uno de Gato csp, is a high-climbing, woody vine that grows profusely in the upper Amazon regions of Peru, Columbia, Ecuador, and other South American countries. At the base of the plant's leaves are two curved thorns that resemble the claws of a cat; these allow the vine to climb up trees and other vegetation into the forest canopy. The herb's botanical name, Uncaria, is from the Latin uncus, for "hook." Two species of cat's claw are harvested for medicinal purposes, Uncaria guianensis, used mainly in Europe, and Uncaria tomentosa, commonly imported into the United States. Among the herbal practitioners of South America, the two species are considered interchangeable. For hundreds of years, people in the Amazon basin have used cat's claw to treat a broad range of ailments, ranging from cancer, arthritis, and stomach and liver disorders to skin conditions and even contraception. Traditionally, the herb's primary medicinal form has been a decoction, or crude extract, prepared by boiling the inner bark of the stem and parts of the root. Scientific interest in cat's claw centers on the plant's immune-boosting and anti-inflammatory properties. There is early and speculative evidence that cat's claw may have antiviral and cancer-fighting potential as well. In recent years researchers have identified two separate subspecies of U. tomentosa, which have important differences in their chemical properties. One contains mainly pentacylic alkaloids, substances responsible for the most well-researched effect of cat's claw, namely immune stimulation. The other type of U. tomentosa contains tetracylic alkaloids, which affect the brain and central nervous system and actually counteract the immune-stimulating effects of the pentacylic group.
Function
of
Devils Caw Extract,
Cat's Claw Extract
1.Cat's Claw Root Extract has effect on arthritis and rheumatis.
2.Cat's Claw Root Extract has the function of anti-oxidant, detoxication and anti-inflammation.
3.Cat's Claw Root Extract can promote healthy blood pressure levels, slow the heart rate, relax and dilate peripheral blood vessels, lower blood cholesterol levels, restrict platelet aggregation (clotting), and help prevent heart problems and arteriosclerosis.
Application
of
Devils Caw Extract,
Cat's Claw Extract
1.Cat's claw extract is used to treat arthritis, viral diseases such as HIV/AIDS, gastrointestinal illnesses such as Crohn's disease, ulcers, and certain cancers.
2.Cat's claw boost the activity of the immune system, reduce inflammation, scavenge damaging particles known as free radicals, and destroy cancerous cells.
3.anti-TB and other bacteria
4.anti-tumor effect
5.resistant leukemia cells in vitro
6.anti-inflammatory effect of acute