CATEGORIES
LATEST NEWS
CONTACT US
ADD: No.235,Huanchengdong Road,Huzhou,Zhejiang,China
TEL: 0086-572-2157374
FAX: 0086-572-2146389
E-mail: sales@plantextractpowder.com

> Standard Plant Extract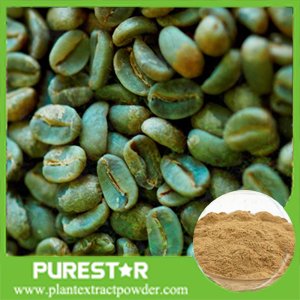 Green coffee bean extract Chlorogenic Acid
Latin Name: Coffea arabica L
Active Ingredient: Chlorogenic Acid
CAS No.: 327-97-9
Specifications: 5%-99%
Product description: Huzhou Purestar Biochem Co.,Ltd is provide the reliable quality Green coffee bean extract Chlorogenic Acid with ISO,KOSHER,HALAL.
PRODUCT INTRODUCTION
Green coffee bean extract Chlorogenic Acid
Name :Green coffee bean extract Chlorogenic Acid
Source:Green coffee bean
Botanical Name : Coffea arabica L
Extract part:Beans
Composition :Chlorogenic Acid
Purity:50%
Identification measure :HPLC
Appearance: Fine Brownish yellow powder
Country of origin:P.R. China
Description of
Green coffee bean extract Chlorogenic Acid
Source
Coffea is a genus of flowering plants whose seeds, called coffee beans, are used to make various coffee beverages and products. It is a member of the family Rubiaceae. They are shrubs or small trees native to tropical and southern Africa and tropical Asia. Coffee ranks as one of the world's most valuable and widely traded commodity crops and is an important export product of several countries, including those in Central and South America, the Caribbean and Africa.A green coffee extract is an extract of unroasted, green coffee beans,the fruit of Coffea .It is a light to dark yellowish brown hygroscopic powder, rich in several polyphenols called hydroxycinnamic acids, of which the two prominent acids are chlorogenic and caffeic acids. Green coffee bean extract is sometimes standardized to more than 50% chlorogenic acid.Green coffee bean extract is touted for its anti-oxidant, hypotensive, anti-inflammatory and anti-obesity properties.
Main bio-actives
Green coffee contains a large quantity and variety of polyphenols and flavonoids. Chlorogenic acid is a phytochemical found in coffee and coffee beans. Scientific researches proved Chlorogenic acid possess potent anti-oxidant and anti-inflammatory activities. It has been touted as being able to reduce blood sugar levels and potentially exert an anti-diabetic effect. It has also been implicated in weight loss and exerting an antiobesity effect, but that is insofar correlation and not necessarily due to chlorogenic acid.
Functions of
Green coffee bean extract Chlorogenic Acid
1.Antioxidant
Chlorogenic acid, as a free radical scavenger and antioxidant, has been proved by a large number of experiments that it can produce a protective effect on cardiovascular system.
Green coffee is believed to possess antioxidantive activity because it contain antioxidants including Chlorogenic acid.To investigate the antioxidant properties of Coffea arabica and Coffea robusta ,they were prepared through flaking, powdering and extraction with solvent mixtures of isopropanol and water in different ratios . The yields of conserves were highest 27% for C. arabica and 29% for C. robusta, when isopropanol and water in ratio of 60:40 was employed. The total polyphenol content was determined and found to be higher (31.7–32.2%) in these conserves. At a concentration of 200 ppm, coffee conserves from Arabica and Robusta, exhibited 92% and 88% antioxidant activity respectively in comparison to 95% for BHA. The conserves were analyzed by HPLC and three phenolic compounds could be identified. The chlorogenic acid, the major compound in the purified extracts (56 ± 10%), was isolated and characterized by 1H and 13C NMR spectral data. While the caffeic acid part of the molecule was confirmed from the signals for aromatic protons and olefenic protons, the quinic acid group was evident from the signals for methine protons α to hydroxyl groups as well as for the methylene protons of the cyclohexane moiety. Similarly, 13C spectra showed signals for two carbonyl carbons, apart from eight signals corresponding to six aromatic and two olefenic carbons and signals for the six carbons in the cycloalkane side chain.
2.Hypotensive
To testify the hypothesis of Chlorogenic acids (CGA) in green coffee bean extract (GCE) has blood pressure-lowering effect on spontaneously hypertensive rats and humans , scientists examined the efficiency and safety of CGA in patients with mild hypertension through a placebo-controlled, randomized clinical trial. The scientists examined the Subjects (n=28) were randomized to receive treatment with CGA (140 mg/day) from GCE or placebo. Blood pressure, pulse rate, body mass index, routine blood test, hematochemistry, urinalysis, and subjective symptoms were recorded throughout the study. In the CGA group, but not the placebo group, blood pressure (systolic and diastolic) decreased significantly during the ingestion period. There was no difference in body mass index and pulse rate between groups, nor were there any apparent side effects. Thus, CGA from GCE is effective in decreasing blood pressure and safe for patients with mild hypertension.
3.Anti-obesity
Many articles reported the the anti-obesity effects of Green coffee beans ,a systematic review conclude that although many of the study were associated with a high risk of bias the results from these trials are promising .The overall meta-analysis revealed a significant difference in change in body weight between GCE and placebo.The meta-analytic result reveals a significant difference in body weight in GCE compared with placebo (mean difference: −2.47 kg; 95%CI: −4.23, −0.72).In animals, GCE has been reported to influence postprandrial glucose concentration and blood lipid concentration. This is thought to be via reduction in the absorption of glucose in the intestine; a mechanism achieved by promoting dispersal of the Na+ electrochemical gradient. This dispersal leads to an influx of glucose into the enterocytes. GCE is also thought to inhibit the enzymatic activity of hepatic glucose-6-phosphatase, which is involved in the homeostasis of glucose . Reports from animal studies have suggested that GCE mediates its antiobesity effect possibly by suppressing the accumulation of hepatic triglycerides [6]. Some authors have also posited that the antiobesity effect of GCE may be mediated via
alteration of plasma adipokine level and body fat distribution and downregulating fatty acid and cholesterol biosynthesis, whereas upregulating fatty acid oxidation and peroxisome
proliferator-activated receptor alpha (PPARα) expression in the liver.
4.Anti-inflammatory
Due to the formation of compounds generated by Maillard reaction,the polyphenols and flavonoids in coffee can have anti-inflammatory or antioxidant potential. Through investigation in animal models and DPPH radical scavenging test , the inhibitory values of oedema at 3 h post-carrageenan were 53% and 74% for 100 and 300 mg/kg of the aqueous extracts of green coffee bean extract.Leukocyte recruitment into the peritoneal cavity was inhibited by the extracts. These results indicate that coffee extracts exhibit anti-inflammatory properties.
Applications of
Green coffee bean extract Chlorogenic Acid
Chlorogenic acid has a wide range of biological activity. Modern science studies on chlorogenic acid's biological activity has gone deep into the food, health care, medicine, daily chemical and other fields. The specific usage as following:
1. The ministry of health's Drug Standard includes 170 kinds of Chinese patent drugs of clearing away heat and toxic materials as well as antisepsis and anti-inflammation, all of which contain chlorogenic acid as the main ingredient. Chlorogenic acid and other polyphenols have been called "the seventh nutrient", widely used in health industry.
2. Chlorogenic acid is a natural phenolic antioxidant and food additive of new and efficient type, used to retain food and fruit's freshness, and added in food or drink of health care function.
3. Chlorogenic acid has antioxidative property, used in urease resisting cosmetics, sunscreen, hair dye and skin care products.