CATEGORIES
LATEST NEWS
CONTACT US
ADD: No.235,Huanchengdong Road,Huzhou,Zhejiang,China
TEL: 0086-572-2157374
FAX: 0086-572-2146389
E-mail: sales@plantextractpowder.com

> Ratio Extract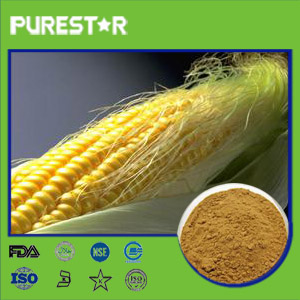 Corn Silk Extract
Appearance:Yellow Brown Powder
Active Ingredient:Alkaloid, Polysaccharide flavonoids
Specification:5:1 10:1 20:1
Sieve Analysis:100% through 80 Mesh
Product description: Huzhou Purestar Biochem Co.,Ltd is provide the reliable quality Corn Silk Extract with ISO,KOSHER,HALAL.
PRODUCT INTRODUCTION
Corn Silk Extract
Product Name:Corn Silk Extract Powder
Part Used:Corn Silk
Active Ingredient:Alkaloid, Polysaccharide flavonoids
Latin Name:Zea mays L
Appearance:Yellow Brown Powder
Test Method:TLC
Specification:5:1 10:1 20:1
Loss on drying :<5.0%
Grade:Pharmaceutical and Food
Molecular Formula:C9H13NO2
Molecular Weight:302
Taste:Characteristic
Odor:Characteristic
Particle Size:100% Pass 80 Mesh
Description of Corn Silk Extract
Cornsilk can be used in conditions of high uric acid such as gout and some types of arthritis. It helps to reduce conditions of painful swelling. It is used for a wide range of genito-urinary complaints, but it is often combined with herbs that have more antiseptic qualities, while Cornsilk helps soothe irritated tissue. Even though it is diuretic, it can also benefit frequent urination by soothing bladder irritation. Chinese research indicates that Cornsilk reduces hypertension and reduces blood clotting time.
Function of Corn Silk Extract
1.Corn on the person or rabbits have a diuretic effect, can increase the amount of chloride discharge, but are less effective. Methanol-insoluble part of its water extract after dialysis were (a) the strongest diuretic effect, whether oral, subcutaneous or intravenous injections have a significant effect. Diuresis is mainly extra-renal in nature, the role of the kidneys is very weak.
2.Decoction of intravenous anesthesia in dogs a marked hypotensive effect, but the dog with chronic carotid artery skin bridge, daily medication for 3 weeks, no antihypertensive effect. A at low concentrations on the role of peripheral blood vessels to expand.
3.The fermentation of corn to be agents of the rabbits have a very significant reduction in blood sugar.
4.Can be used as choleretic drug for uncomplicated chronic cholecystitis, cholangitis in patients with bile discharge barriers. It can also speed up the process of blood clotting and increase blood levels of thrombin yuan, increased platelet count, they can be used as a styptic and diuretic and urinary bladder stones.
5.Of sweet corn to be short and flat, portal triad, kidney, bladder through, with diuretic swelling, Pinggan gallbladder function, indication of acute and chronic nephritis, edema, acute
cholecystitis, bile duct stones and high blood pressure and so on. Modern pharmacological studies have shown that corn must be included in a large number of potassium nitrate, vitamin K, sitosterol, stigmasterol, and a volatile alkaloid. There diuretic, blood pressure, lowering blood sugar, bleeding, gallbladder and so on.
6.Modern for icteric model hepatitis, cholecystitis and gallstone disease. High doses of themselves, or with money grass, capillary artemisia, turmeric, etc.
7.Modern for nephritis edema, liver cirrhosis ascites, and hot shower, urination, etc. The former, but with wax gourd peel, rice bean, verbena used; The latter, can use with plantain, even money grass.
8.Used for epistaxis, gingival bleeding, hemorrhagic purpura, etc. With the compatibility of radix rehmanniae, cogongrass rhizome, radix scutellariae, etc. In addition.
9.It can also be used for diabetes (diabetes) and hypertension. Can use high-dose decoction.
Application of Corn Silk Extract
1. Applied in pharmaceutical field,corn silk extract can be used as medicine to treat uncomplicated chronic cholecystitis;
2. Applied in health food field, corn silk extract can be made into preparations to play diuretic and antihypertensive function;
3. Applied in food field, corn silk extract antimicrobial activity in a specific environment is stability, therefore can be used as a potential food preservative.