CATEGORIES
LATEST NEWS
CONTACT US
ADD: No.235,Huanchengdong Road,Huzhou,Zhejiang,China
TEL: 0086-572-2157374
FAX: 0086-572-2146389
E-mail: sales@plantextractpowder.com

> Plant Extract for Agriculture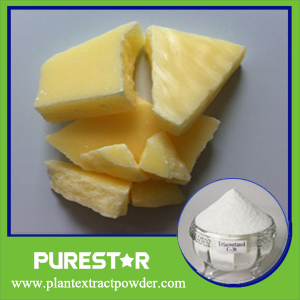 Rice Bran Wax Extract,Triacontanol
Appearance: White powder
Specification: 30%-95% Triacontanol
CAS No.: 593-50-0
Test method: GC
Product description: Huzhou Purestar Biochem Co.,Ltd is provide the reliable quality Rice Bran Wax Extract,Triacontanol with ISO
PRODUCT INTRODUCTION
Rice Bran Wax Extract,Triacontanol
Product Name:Triacontanol
Type:Natural Plant growth regulator
CAS No.: 593-50-0
EINECS No. :209-794-5
Specification: 30%-95% Triacontanol GC
Loss On Drying ≤0.5%
Ignition Residue ≤0.1%
Solubility:Poorly Soluble In Water, Soluble In Ethanol, acetone, etc
Description of Rice Bran Wax Extract,Triacontanol
Triacontanol is a fatty alcohol of the general formula C30H62O, also known as melissyl alcohol or myricyl alcohol. It is found in plant cuticle waxes and in beeswax. Triacontanol is a growth stimulant for many plants, most notably roses, in which it rapidly increases the number of basal breaks. Triacontanol is a naturally occurring plant growth promoter which can act as a photosynthesis enhancer. Since light is a primary source of nutrition, the benefits of using triacontanol are obvious. It will also increase cell division rates leading to production of larger root and shoot mass. When sprayed on plants during growth periods, it activates secondary messengers leading to enhanced enzymatic activities in plants.
Function of Rice Bran Wax Extract,Triacontanol
1.Increase cell growth in roots, and used to produce thicker foliage, trichomes, and flowers.
2.Robust plants, that are more resistant to disease and pathogens.
3.Increases plant branching and allows for more nodes.
4.Improves establishment and growth of young plants produced from cuttings, seed or plugs.
5.Triacontanol helps plants suffering nutrient and growth deficiencies.
6.Triacontanol can increase plant or crop yield up to 40%.
7.Enhances photosynthesis and plant metabolism.
8.Induces the production of buds and flowering.
9.Allows the production of bigger leaves, and bigger root systems.
Application of Rice Bran Wax Extract,Triacontanol
1.Triacontanol has been widely used in plant growth regulator and high-grade feed.
2.Target crops: rice, wheat, peanut, cotton, tea, sugarcane, vegetables, tobacco, and ect.
3.Recommended concentration for foliar application: 0.5-1 ppm