CATEGORIES
LATEST NEWS
CONTACT US
ADD: No.235,Huanchengdong Road,Huzhou,Zhejiang,China
TEL: 0086-572-2157374
FAX: 0086-572-2146389
E-mail: sales@plantextractpowder.com

> Natural Sweetener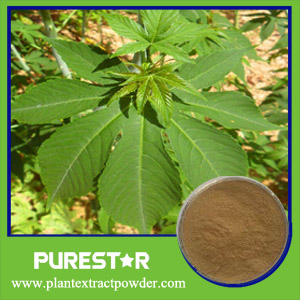 Sweet Tea Extract Rubusoside
Latin Name: Strigose Hydrangea
Appearance:Light Yellow powder
Specification:Rubusoside HPLC 70 %
Part Used:Leaf
Product description: Huzhou Purestar Biochem Co.,Ltd is provide the reliable quality Sweet Tea Extract,Rubusoside with ISO,KOSHER,HALAL.
PRODUCT INTRODUCTION
Sweet Tea Extract,Rubusoside
Latin name: Sweet Tea Extract Rubusoside
Product Name: Rubus suavissimus S.Lee
Common name: Sweet Tea Extract, Sweet Tea Leaf Extract Rubusoside
Active ingredients: Rubusoside
Product Specification: 70% 75% 80% Rubusoside
Appearance: Light yellow powder
Test Method: HPLC
Description of Sweet Tea Extract,Rubusoside
What is Sweet tea Leaf Extract?
Sweet tea, a new variety of Rosaceae Rubus L. plant, has been found as medicine on early 80s last century in China. Sweet tea leaf is commonly known as Chinese Blackberry which is equally famous as Momordica, has a long history in civillian usability such as replacing sugar, invigorate the kidney,and anti-hypertension. Rubusoside is extracted from the leafs of sweet tea, this extract is a kind of diterpenoid sugar which has a similar structure with steviosides which be formed with same aglycon, the only different between them is that there isn't a Glu-10C in rubusoside. Rubusoside contains 300 times sweetness and only 5% caloriesas as cane sugar so it is known as natural sweetner with hight sweetness and low calories. Rubososide can be used to diabetic and kidney deficiency patients byactivating Human Ins and managing blood glucose. Rubososide also work as the best taste sweetner in functional sweet-plant, it shows good economic valuein many industry such as food, drink, cold snack, condiment, medicine, cosmetic because its environment and health effect.
Function of Sweet Tea Extract,Rubusoside
1. Having expectorant and antitussive effect,
2. Decreasing blood pressure, blood sugar and blood fat
3. Serving as plant insulin, it can use for the cure of diabetes.
4. Sweet tea leaf's powder has anti-inflammatory and astringent effects
5. helpful for digestion
Application of Sweet Tea Extract,Rubusoside
1.can be applied in cosmetics field, tea extract owns the effect of anti-wrinkle and anti-Aging;
2.can be applied in food field, tea extract is used as natural antioxidant, antistaling agent, and anti-fading agents;
3.can be applied in pharmaceutical field,tea extract is used to prevent and cure cardiovascular disease, diabetes.