CATEGORIES
LATEST NEWS
CONTACT US
ADD: No.235,Huanchengdong Road,Huzhou,Zhejiang,China
TEL: 0086-572-2157374
FAX: 0086-572-2146389
E-mail: sales@plantextractpowder.com

> Natural Fruit Powder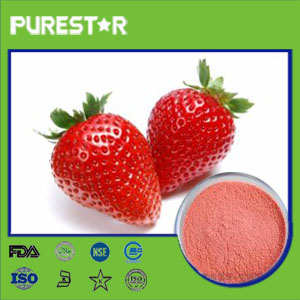 Strawberry Powder
Latin Name: Fragaria ananassa Duchesne
Appearance: Light pink fine powder
Part used: fruit
Particle Size:100% pass 80 mesh
Product description: Huzhou Purestar Biochem Co.,Ltd is provide the reliable quality Strawberry Powder with ISO,KOSHER,HALAL.
PRODUCT INTRODUCTION
Strawberry Powder
Product Name: Strawberry Fruit flavour Powder
Latin Name: Fragaria ananassa Duchesne
Appearance: Light pink fine powder
Part used: fruit
Ingredients: polyphenols & Vitamin C
Appearance :Light pink fine powder
Latin Name:Fragaria ananassa Duchesne
Particle Size:100% pass 80 mesh
Part:Fruit
Description of Strawberry Powder
Strawberry contains essential flavonoids, vitamins and minerals and the value of ORAC of strawberry is 1540/100g . Freeze dried strawberry powder is a natural and clever way to introduce extra fruit into the diet, as well as being a natural, safe colouring and flavouring. The powder contains no artificial ingredients, flavourings or colourings, and are free of saturated fats, sodium, and cholesterol, made from 100% strawberries.
The strawberry is a widely grown hybrid species of the genus Fragaria . It is cultivated worldwide for its fruit. The fruit is widely appreciated for its characteristic aroma, bright red color, juicy texture, and sweetness. It is consumed in large quantities, either fresh or in such prepared foods as preserves, fruit juice, pies, ice creams, milkshakes, and chocolates. Artificial strawberry aroma is also widely used in many industrial food products.
Strawberries contains approximately 33 kilocalories, is an excellent source of vitamin C, a good source of manganese, and provides several other vitamins and dietary minerals in lesser amounts.
Strawberries contain a modest amount of essential unsaturated fatty acids in the achene (seed) oil.
Function of Strawberry Powder
1. Strawberry on gastrointestinal and anemia have some nourishing conditioning effect
2. Strawberries can prevent scurvy addition, the prevention of atherosclerosis, coronary heart disease have a good effect;
3. Strawberry is rich in tannin content in plants, in vivo absorption and prevent the absorption of carcinogenic chemicals, have anti-cancer effect.
Application of Strawberry Powder
1. Applied to many skin care products due to the fruitful Vitamin C in the fruit and Polyphnol in the seed.
Abundant natual vitamin C can actively reduce melanin,make skin full of transparency,coruscate, glorious white.Rich polyphnol in the seeds can improve fine lines, relaxation and skin problems.
2. Applied in food supplyments.
Widely applied in food industry as:
Flavors in seasoning packets for strawberry powder keep the original flavors;
Colors in ice cream, cakes for beautiful pink color of strawberry powder;
Also can be applied in drink mix, infant food, dairy product, bakery, candy and others