CATEGORIES
LATEST NEWS
CONTACT US
ADD: No.235,Huanchengdong Road,Huzhou,Zhejiang,China
TEL: 0086-572-2157374
FAX: 0086-572-2146389
E-mail: sales@plantextractpowder.com

> Plant Extract for Agriculture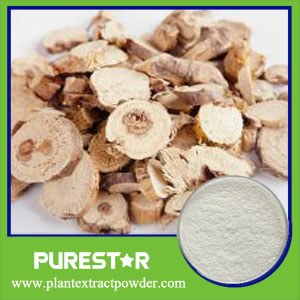 Sophora Flavescens Extract,Matrine
Apperance: white powder
CAS No. 519-02-8
Part of used:Root
Test method: HPLC
Product description: Huzhou Purestar Biochem Co.,Ltd is provide the reliable quality Sophora Flavescens Extract,Matrine with ISO,KOSHER,HALAL.
PRODUCT INTRODUCTION
Sophora Flavescens Extract,Matrine
Product name: Lighiyellow Sophora Root P. E.
The main chemical: Matrine; Oxymatrine
Come from: The root of Sophora flavescens Ait
Raw material: Root of Sophora flavescens
Extract Method: Grain Alcohol
Product Type:White powder
CAS No.:519-02-8
Molecular Formula:C15H24N2O
Part of used: Root
Test method: HPLC
CAS: 519-02-8
Description of Sophora Flavescens Extract,Matrine
What is Sophora Flavescens?
Sophora flavescens is a species of plant in the genus Sophora. Ku shen (the root) or kushenin (a flavonoid compound) is a
typical traditional Chinese medicine that is found in this plant. It is commonly used for the treatment of viral hepatitis, enteritis,
cancer, viral myocarditis, gastrointestinal hemorrhage and skin diseases (such as colpitis, psoriasis and eczema). Its roots
contain quinolizidine alkaloids, includying matrine and its oxide, matrine oxide that interfere TNF-alpha and IL-6, suggesting that oxymatrine may inhibit the expression of the above pro-inflammatory cytokines. Matrine also inhibited expression of Substance P and NK-1R in a human model of skin inflammation, as well as acting as an agonist at mu and kappa opioid receptors.
What is Matrine?
Matrine is an alkaloid found in plants from the Sophora family. It has a variety of pharmacological effects, including anti-cancer effects, and action as a kappa opioid receptor agonist.
Matrine possesses strong antitumor activities in vitro and in vivo. Inhibition of cell proliferation and induction of apoptosis
are the likely mechanisms responsible for matrine's antitumor activities. Matrine is a component of the traditional Chinese
medical herb Sophora flavescens Ait.Matrine and the related compound oxymatrine have an antifeedant effect against Formosan
subterranean termite.
Where will Matrine be used for?
Treat chronic hepatitis B and chronic hepatitis C,
Anti-cancer
Treat Cardiac Diseases
Treat Skin Diseases
Anti-bacterial
Anti-arrhythmic effect,
Anti-asthmatic effects,
Anti-neoplastic effects,
Anti-allergic effects.
Brief Review of Matrine Insecticide
1 The plant Sophora Flavescens is a Traditional Chinese Medicine that has been used for anti-tumor, viral hepatitis, enteritis, viral myocarditis, arrhythmia, and skin diseases. It is sometimes referred to as Kushen or Ku Shen, and within the context of Traditional Chinese Medicine is known to have 'cooling' and antiphlogistic (anti-inflammatory) properties.
2 Sophora flavescens extract is an herbal powder derived from the root of the sophora flavescens plant. It has a long history of medicinal use in China, where it is still used to help treat a wide range of diseases including dysentery, edema and eczema.
Function of Sophora Flavescens Extract,Matrine
1. Has a direct effect of anti-hepatitis B virus.
2. Can inhibit the activity of collagen and prevention of liver fibrosis.
3. Abnormal liver cell death can be prevented
4. Can make the heart rate slow down,decreased myocardial contractility,reduced cardiac output;have anti-arrhythmic effects;also diuretic,anti-inflammatory,anti-allergic,sedative,asthma,expectorant,elevated white blood cell, anti-tumor effects.
Application of Sophora Flavescens Extract,Matrine
1.Nutritional supplements
2.Health food products
3.Beverages
4.Pharmaceutical products
5.Skin Care Materials
6.widely used in pesticide