CATEGORIES
LATEST NEWS
CONTACT US
ADD: No.235,Huanchengdong Road,Huzhou,Zhejiang,China
TEL: 0086-572-2157374
FAX: 0086-572-2146389
E-mail: sales@plantextractpowder.com

> Plant Extract for Agriculture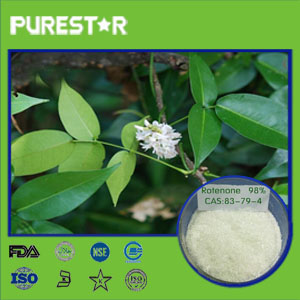 Rotenone
Appearance: White crystal powder
Active ingredients:Rotenone
CAS No.:83-79-4
Function: natural pesticide
Product description: Huzhou Purestar Biochem Co.,Ltd is provide the reliable quality Rotenone with ISO
PRODUCT INTRODUCTION
Rotenone
English name:Rotenone Powder
Other name: tubatoxin
Active ingredients:Rotenone
Specification:20% 90% 95%
Appearance: White Powder
specification: 40%, 90%,98%. ( crystal powder)
CAS No.:83-79-4
Active ingredient: Rotenone
Empirical formula: C23H22O6
Molecular weight: 394.21
Test Method:TC
Description of Rotenone
Rotenone is a selective, non-specific insecticide with some acaricidal properties. Rotenone is used in home gardens for insect control, for lice and tick control on pets and for fish eradications as part of water body management.
The use of the pesticide for control of fish and in cranberries is restricted by the Environmental Protection Agency.
Rotenone is a rotenoid plant extract obtained from such species as barbasco, cub, haiari, nekoe, and timbo. These plants are members of the pea (Leguminosae) family.
Features:
1. Low toxicity, high efficiency, rapid killing, controlling pests and mites, saving time and pesticides, and being able to reduce insecticide-resistance effectively.
2. The product can stimulate chlorophyll and accelerate crops to grow.
3. After being sprayed, it can quickly decompose and volatilize, so leaving no harmful reside on crops.
Function of Rotenone
1 The Rotenone is one kind of vegetal insecticides, the pure green environmental protection biology agrochemical, distilling from the plant.The Rotenone is very strong against the pest to kill and is poisonous function against the stomach of pest, also can avoid the pest inbreak.
2 It is effective to control the aphid, lepidopter, also to control some beetles. Using Rotenone to control tea leaf, mulberry, vegetable, fruit tree, tobacco etc. the farm crop various pests,
Application of Rotenone
1.It has strong insecticidal ability, in agriculture,it is used for preventing and controlling many kinds of insect pests of cotton, fruit, vegetables, tobacco, mulberry, tea.
2.It is safe for people and livestock, preventing and curing the livestocks' parasitic ticks, ticks, cowhide maggots and sarcoptic mite, etc.